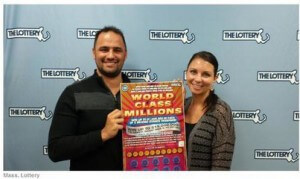 Michael Milford of Melrose won the second $15 million prize in the Massachusetts Lottery's $30 World Class Millions instant ticket game.
Milford and his fiancee Allison Gilgun received their prize as a one-time payment of $9,750,000 less taxes.  It is the largest scratch and win prize awarded in the state.
The happy couple, who have been planning a Dominican Republic wedding for several months.  Now they have all the money they need for the wedding, pay off all their bill, and help their family; they'll even have enough left over to invest for their future.
The Boyles Family Market in Medford will receive a $50,000 bonus for selling the winning ticket.  Two more $15 million prizes remain in play.
Read more in http://www.wcvb.com/news/engaged-couple-wins-15-million-on-scratch-ticket/31586804