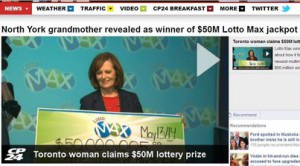 A 63-year old mother of two just had a Mother's Day weekend she will remember for the rest of her life.  Sophie Rizavas of North York won $50 million from the Lotto Max on the Friday just before Mother's Day.  This made the celebratory meal with her daughters such a special one.
Incidentally her win came on the 44th anniversary of her immigration from Greece.  And she had worked on hard jobs like being a cleaner at various hospitals.  Now she has the option to retire and enjoy life in the company of family and friends.
And for now, all she has planned for the money is a family vacation.
Read more in http://www.cp24.com/news/north-york-grandmother-revealed-as-winner-of-50m-lotto-max-jackpot-1.1819954