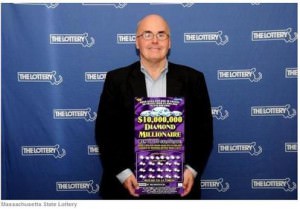 The new chief of the state of Massachusetts Department of Transitional Assistance was a big lottery winner 4 years ago.  Jeffrey McCue and his wife were going back home from visiting their son at college when his wife asked him to stop at a food Market in Wymouth to buy an instant lottery ticket.  His wife Mary Ann told her of a hunch about the lottery she just had to follow.
After they scratched off the ticket and learned of the $10 million prize they had won, they could not sleep.  Back then he declared that the money will pay for the education of his six children.
Now McCue has come out of retirement to head the welfare agency.  Whether he will use some of his own winnings in providing relief to others remains to be seen.
Read more in http://www.wcvb.com/politics/-new-massachusetts-welfare-chief-is-a-lottery-millionaire/32599278