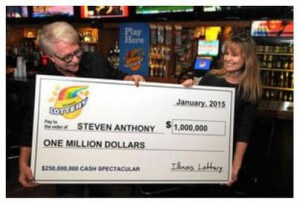 Steve Anthony's life has not been very easy, that is why he buys a few instant tickets now and then hoping for a significant win.  And New Year's eve was a good time to win, so he bought a $250,000,000 Cash Spectacular instant game for $10.  That turned out to be a very good decision.
The ticket came out  a big winner – $1 million to be exact.  He thinks it is a great start of the year and plans to spend most of the $600,000 less required withholding he received to care for his parents and to do some traveling.
Christopher D's, the store which sold the winning ticket, earned  a $10,000 seller's bonus.
Read more in http://www.qconline.com/news/local/moline-man-collects-million-illinois-lottery-prize/article_10275d33-d3dd-5b21-a932-78953584774b.html