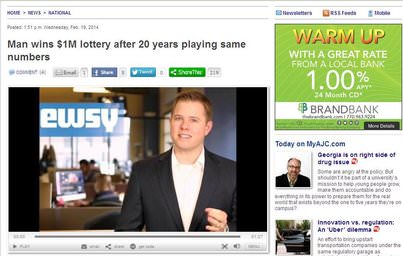 Robert Winburn was convinced he had a system for picking a Powerball lottery winner;  heuses numbers that correspond to the letters in his last name.  Such was his faith in his set of numbers that he consistently bet on it for more than two decades.  His persistence finally paid off in Saturday's draw when his numbers matched those drawn except for the powerball.
And when his win came, he found it hard to believe his moment had finally come.  A guy who was also at the store immediately advised him to sign the back of the ticket.
Funny thing is, the powerball in Saturday's draw was the number 3.  If his last name had been Winbucn, he could have taken home a $330 million jackpot.
Read more in http://www.ajc.com/news/news/national/man-wins-1m-lottery-after-20-years-playing-same-nu/ndTT9/