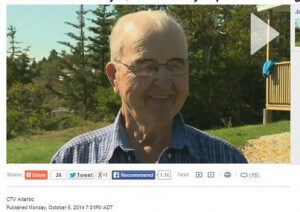 The latest lottery millionaire from Nova Scotia is a very simple man who is in no hurry to claim the $13.8 million he won in the Oct. 1st draw of the Lotto 6/49 game.  He says he is satisfied with his life and does not plan to change a thing.
Though he came from a large family, Leon Hirtle never married and has no children.  He is so simple that he worked as a fisherman from age 16 till he retired two years ago at 75.  He also fixed up the house he still lives in since he bought it 45 years ago, and does not plan to move.
While he is  unsure what he wants to do with all the money, he knows he will share with two nieces and their children.  He will also continue to play the lottery since it has become a habit with him.
Read more in http://atlantic.ctvnews.ca/n-s-lotto-winner-says-13-8-million-jackpot-won-t-change-a-thing-1.2041986