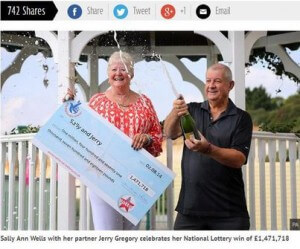 Sally Ann Wells and her partner of 14 years Jerry Gregory have always played the lottery.  But they had a habit of pinning the lottery tickets they bought on their notice board.  After a recent trip to France, their notice board contained about three months worth of unchecked lotto entries.  It was at that point when she read about an unclaimed winning ticket.  That prompted her to check her own entries.
She was happy when one of  the tickets she had won a £25 prize.  Then was stunned when another ticket she had bought at Tesco in Ramsgate for the draw on August 2 turned out to be a big winner.  It matched all six numbers drawn plus the bonus number to scoop £1.5million.
Ms. Wells says they don't plan any major changes in their lifestyle, apart from maybe purchasing a new vehicle for her partner.  And they are so used to simple living that when they learned they had won the big jackpot, their celebration involved food shopping at the local Tesco complete with a careful look at the goods on offer.
Read more in http://www.mirror.co.uk/news/uk-news/couple-scoop-15m-lottery-jackpot-4191221