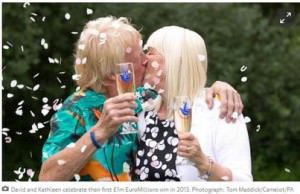 David and Kathleen Long of Scunthorpe are no strangers to the lottery winning circle; they won £1 million from the lottery in 2013.  After their win, David declared that one day it will be their turn again to win – it turns out that he was right.
The man was checking his tickets on the television.  When only one of five entries matched two numbers and a lucky star, he checked the raffle codes next.  That is when he called his wife to verify their 2nd million pound win, and this one comes with a top of the line Jaguar as well.
The happy couple are still too stunned to deal with the incredible stroke of luck that saw them beat odds of 283 billion to one.
Read more in http://www.theguardian.com/uk-news/2015/apr/01/british-couple-win-1m-euromillions-lottery-draw-second-time-two-years