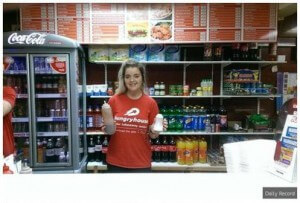 Sometimes the youth surprise us simply by being much more mature than their seniors.  That seems to be the case with 17-year old Jane Park, who posted a £1 million lottery win in 2013 – on the very first time she played.
While we cannot be faulted for thinking that teens will prioritize fun and games, lottery winner Jane Park has instead returned to work in a chip shop, despite being a millionaire.  But when she heard about the story of a seriously ill teen who wished to visit the Universal Studies in Florida before he died, the young lady's purse opened.
15-year-old Leon Rendle, stricken with an incurable case of Ewing's sarcoma is set to receive the help he needs to make his bucket list wish come true; and they thank Jane Park profusely for it.  For now, they need to find an insurance company willing to cover Leon; Jane Park is determined to help, no matter how much it is.
No wonder she is so blessed!
Read more in http://www.mirror.co.uk/news/uk-news/teenage-lottery-winner-offers-help-5346611