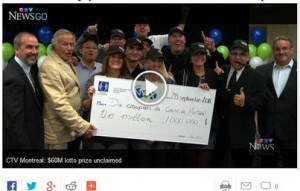 People who work in casinos are used to taking chances and understand odds better than the rest of us.   That is why it should not come as a surprise that a syndicate composed of ten croupiers has just won a million dollars.
The syndicate will split the money among them. which gives each a $100,000 return on a $5 investment.  They only formed their group Friday and immediately bought $50 worth of tickets, one of which won $1 million.
But another bigger winner has yet to come forward to claim a huge $60 million jackpot in last Friday's Lotto Max draw.
Read more in http://montreal.ctvnews.ca/60m-lottery-prize-unclaimed-as-10-croupiers-split-1m-win-1.2585568