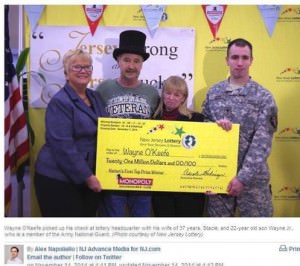 It seems appropriate that a military veteran should win the first jackpot of the multi-state Monopoly Millionaires' Club lottery game.  Wayne O'Keefe, a Vietnam vet from Highland Lakes, won a $21 million jackpot on only the third draw of the new game.  O'Keefe had purchased his tickets from the Highland General Store on Highland Lakes Road in Vernon.
The winner later chose to receive his prize in a single payment of $12,804,878 before taxes.
The O'Keefe family has already decided to donate part of the winnings to the New Jersey Fireman's Home, and to Karen Ann Quinlan Memorial Foundation.
Read more in http://www.nj.com/lottery/index.ssf/2014/11/nj_vietnam_vet_wins_21m_jackpo.html