Modesto Lottery Player Reaps The Rewards Of Persistence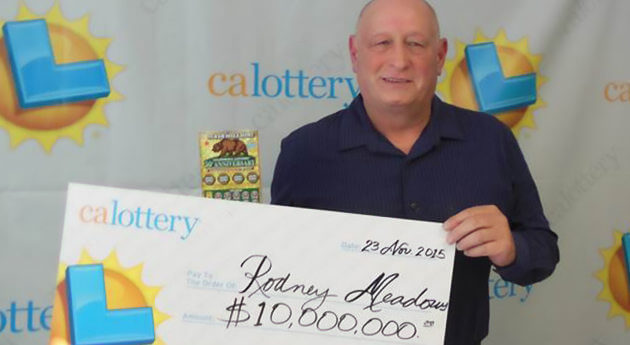 Modesto man Rodney Meadows is a regular lottery player. In his case the description of "regular player" means 4 to 5 tickets a week. He favors playing scratch tickets, and usually goes for the ones which give better winning odds, even if better chances come at a hefty price; sometimes up to $30 per ticket.
Until about a month ago he only had two $1,000 dollar wins and a smattering of small consolation prizes for his efforts. Then suddenly, news reports have him winning a thousand dollars followed closely by a much bigger win of $10 million dollars – all while in the store running errands. In an instant he was transformed from being one of many regular players (like most of us) to a big winner. Suddenly everyone is curious about the details of his win. While logic does not dictate who wins – the holder of a single ticket can snatch the jackpot from the hands of people who purchase multiple entries – Rodney Meadows' path to lottery success is quite interesting. You can even say that there are some things we can emulate.
Speculations About His Win
News articles about his win included many speculations on what factors contributed to his lottery success such as:
The "lucky store" theory. The manager of the Fast Mart, where Meadows bought both the $1000 winner and the $10 million winner on the same day, says customers consider his store lucky. He recalls selling a $25,000 winner the month before, $30,000 last year and four winners of between $15,000 and $30,000 in 2014. He claims that people routinely win $400 to $500 dollars each day. The store has also received official recognition from no less than the California Lottery which named it a Lucky Retailer for 2014 and 2015.
The ticket offered better winning odds: There is some logic to this claim as the $30 – 30th Anniversary scratch tickets give odds of 1 in 3 million. Though people may say that it is still hard to hit the jackpot with 1 in 3 million odds, lower priced tickets give lower odds. For example, lottery officials say that $2 scratch tickets only give a 1 in 293 million chance of winning the top prize; that makes the odds on $30 tickets more than 90 times better.
Sheer luck: Let's face it if you beat 3 million other entries to land the top prize by buying less than a dozen tickets some amount of luck has to be involved. Well some call it luck, and some call it divine intervention, but there it is.
Persistence: There is no doubt that those who play regularly, as Meadows does, have better winning chances. You got to play to have a chance to win; the more you play, the better your chances. And in this case persistence can also be measured by not being content with his first win of the same day which is $1000. Meadows used the money to buy three more tickets, the last of which yielded the big jackpot.
So What Is Responsible For His Win?
Depending upon what you believe in, Meadows' win may have resulted from a confluence of different factors like buying from a "lucky store", the better odds inherent in the $30 California Lottery 30th Anniversary Scratchers® tickets, divine intervention and the man's persistence. There are so many theories about luck so I would not even try to venture there.  But it is undeniable that buying tickets giving better winning chances and sheer persistence played a big part; remember that he is a regular lottery player and he was not content after winning a measly $1,000.
I tend to lean towards copying his style of buying tickets with better winning odds and 'letting it ride' after winning a small amount.
What Now?
For now, Meadows' main problem that he does not know what to do with all that money; that's a problem most of us wish we had. With a win that big, he can take all the time he needs to make up his mind. But if he runs true to form, some of that money will be spent playing the lottery. Just because he has won big once does not mean he cannot do so again – in fact statistically he has the same chance as anybody else! So if you haven't won yet, that's all the more reason for you to keep playing. Rodney Meadows' experience tells you that persistence can pay.