Lady Luck Visits Security Guard On Lunch Break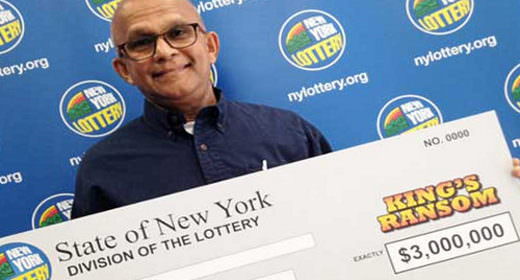 For many of us, earning a a salary that would see us live comfortably is still a dream. Perhaps that is the reason why many of us try our luck playing the lotteries.
Per Bureau of Labor Statistics (BLS) data you would expect a security guard to make about $24,000 a year in salaries. Rafik Sulaiman, an immigrant from Guyana who works as a security guard at the Rockefeller Center, may make that much money in annual salaries, but he has made quite a bit more than that from his lunch break.
He used one of his lunch breaks to saunter over to the Pronto Pizza on 48th Street to buy some food and a $10 King's Ransom instant ticket at the store's vending machine. Upon scratching the ticket, he saw a coin followed by the word jackpot. That prompted Suleiman to go back to the store to have it verified. It was then he learned that he had won the top prize of $3 million.
Even after learning of his life-changing win, Suleiman spent an entirely normal day. He finished his shift and went home to Astoria where he lives.
What Helped Him Win
We are instantly curious as to what Suleiman did to help him win the big jackpot. And there may be a few clues in the story of the married father of three and grandfather of five.
First Suleiman admits to regularly playing about $10 worth of lottery tickets on a daily basis. While there are some incredible stories of people who have won significant jackpots at their first few tries, many more stories tell of people who win after playing on for some years. When you understand your chances of winning, persistence is one of the keys.
Second, there is the ticket vending machine at the Pronto Pizza on 48th Street which many people consider one of the luckiest in the city. Suleiman's win makes it the second time since 2009 that the particular vending machine sold a ticket worth millions. Eatery cashier Arun Mohammed says that customers specifically come to purchase scratch offs at the "lucky" machine.
Third is just pure luck or the blessing was really meant for him. When Suleiman got to the vending machine there was only one ticket left; it was not as if he had a lot of choices. While accustomed to choosing a ticket randomly, he bought the one remaining ticket which turned out to be a big winner.
His Plans For The Future
He has since opted to receive his prize in a single payment of $1,517,654. That is equivalent to more than half a century of wages at the rate of $24,000 per year. Despite the enormity of his win, Suleiman says he has no immediate plans of leaving his job.
An interestingly, despite years of playing the lottery, he has made no plans for the prize money. He says he just wants to "hang low" and decide what to do with his riches after he receives it.
Tips For The Rest Of Us
For those of us still dreaming of that big win, there may be three lessons to learn from Suleiman's experience:
Persistence pays off
It won't really help to buy entries at "lucky" ticket vending machines, but it won't hurt either
If the blessing is meant for you, you'll receive it; even if it means buying the last ticket on the machine
There may be a final lesson: blessings can come anytime, even on lunch breaks.
Where To Next:-
Lottery Questions? – Lottery Tips – Lottery Software