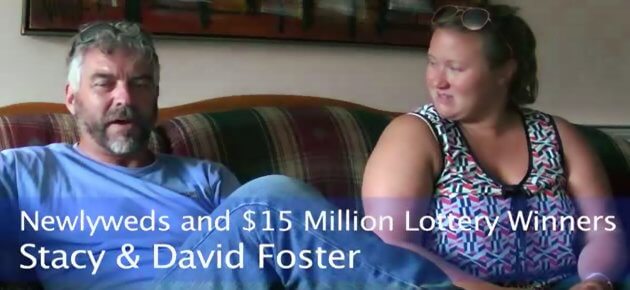 Stacy & David Foster – Destined To Win
Some people who have played the lottery a long time, and tried different types of winning 'systems' are still waiting to land the big one – the one jackpot that will change their lives for the better. Then there are some people who seem to win significant prizes almost effortlessly – it looks like Stacy Foster is among them.
Stacy and her husband David have just won a $15 million jackpot from the Massachusetts Lottery's Supreme Millions Game.
Lady Luck Chased Them
Luck must have been really running after David and Stacy Foster on that day when they purchased their winning ticket. When they entered the Tedeschi Food Shops on Route 6 in Eastham that Saturday, they headed directly for a register to purchase tickets. They were stopped by a clerk who told them that particular register was closed, so they'll have to take their ticket from the next one.
Some superstitious people would have taken that to mean they were being prevented from purchasing tickets for some reason and would have walked out of the store. But instead, David and Stacy simply walked over to the next available register where they bought three instant tickets, and headed home.
When they got home, the couple immediately began scratching the tickets. It was Stacy who made the lucky find on a Supreme Millions game. Shocked, she called her husband over, who immediately lost color. So they ran over to their next door neighbors for confirmation; the neighbor's wife could not speak, but the husband gave them the confirmation they needed.
How Lucky Are The Fosters?
Mathematically the Fosters beat odds of 1 in 1,560,000 to win one of only four $15 million top prizes. Add to that the fact that they seem to have been led to the register with the winning ticket by some twist of fate and that makes them destined to win.
The Massachusetts Lottery had also just started selling Supreme Millions game tickets on April 28; the number of tickets sold throughout the state at the time of their win was only about 3 million. And then there is the fact that the winning couple just wed on 1st May. Within two weeks of their marriage they have received a huge wedding present from the lottery! They later opted to receive their prize in a one-time payment of about $6.8 million net of taxes. What can be better than winning a lottery ticket at a time when you are young enough to enjoy it?
Now some may comment that it would have been better if they won before the marriage, so they can make the celebrations more elaborate. But then if they had, they would have been tempted to splurge unnecessarily.
What's Next?
Now the Fosters have millions in the bank, which makes for a terrific start to their life together. Their new fortune relieves them of financial worries so they need not hurry back to the normal grind – they can have an extended honeymoon if they want.
What they want right now is to purchase a new house, maybe a new truck and to be rid of their student loans. They'll have enough left over after that to last them a long time if they handle it right.
The Tedeschi Food Shop they bought the ticket from shared in the blessings; it has earned a $50,000 bonus for selling the winning ticket – the biggest bonus payout the Massachusetts Lottery has ever given.