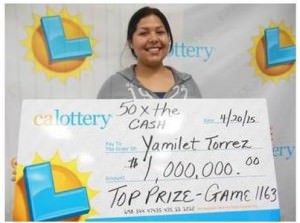 Yamilet Torrez sometimes tries her luck playing lottery scratchers; that is especially true when she wins money she can use to make her lottery ticket purchases.
A $100 last week prompted her to buy more instant tickets at the weekend.  One of those tickets gave her another win of $5,000.  Feeling lucky, Torrez claimed her prize Monday and proceeded to buy nine more instant tickets at the Amazon Smoke Shop & Water in Garden Grove on the way over.  The last ticket in that bunch, a 50X the Cash Instant Ticket won for her another jackpot – this time worth $1 million.
The store earned a bonus of $5,000 for selling the winning ticket.  As for Torrez, she is planning use her winnings to buy a new car and to help her family.
Read more in http://www.ocregister.com/articles/torrez-658910-lottery-scratchers.html