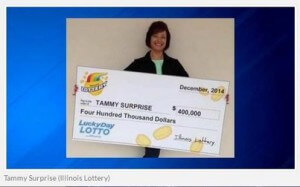 A woman from Bloomingdale chose a very convenient way of playing the lottery – the online option.  Thus she made sure that she never missed purchasing an entry for the Lucky Day Lotto she had been playing for about 4 months.
Imagine her surprise when she received an email from the Illinois Lottery that she had won a prize. which she later found to be a $400,000 jackpot.  Tammy Surprise (yes that's her real name) immediately relayed the news to her surprised husband.
This is going to be a wonderful Christmas for the Surprise family.
Read more in http://abc7chicago.com/news/tammy-surprise-of-bloomingdale-wins-$400k-lottery-prize/440609/