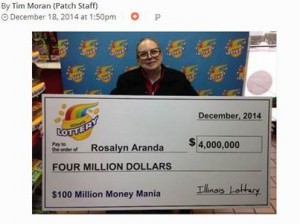 The reason why so many people play the lottery is because players are literally just a ticket away from huge jackpots.  Rosalyn Aranda will attest to that.
Aranda's life was normal for a retired pharmacist, till she asked a friend to buy some things for her including a "big winner"  of a lottery ticket.  She scratched the $100 Million Money Mania ticket as soon as it arrived and found herself $4 million richer.
Now the winner is thinking of savings, investments and playing Santa Claus to relatives.  The Citgo Food Shop, 1533 North Waukegan Road in Glenview received a bonus of $40,000 for selling the winning ticket.
Read more in http://patch.com/illinois/glenview/glenview-resident-be-family-santa-claus-after-winning-4-million-illinois-lottery-prize