Dave and Angie Dawes have been revealed as the winners of last Friday's enormous EuroMillions jackpot.
The couple who proved to be the sole winners have already received payment of £101,203,600.70 to their new exclusive private banking account. They have moved out of their £70 per week 1 bedroom flat in Wisbech, and plan to buy a home in Chelsea.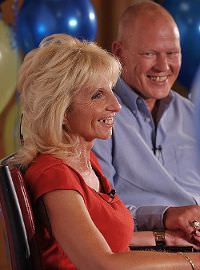 They were watching the draw live on TV when it happened and checking their ticket, said Dave. It was a very strange experience to watch in shock as each of their numbers came out one by one. Angie was screaming by the time the had matched just 4 of them.
Incredibly it was only the third time they had played. They had taken turns choosing numbers for the previous two draws, but had chosen one line each for last Friday. They weren't revealing who had chosen the winning line.
So what do they plan to do with such a vast winning sum?
They have been thinking about little else since Friday night.
So far, there is the property in Chelsea, plus one in Portugal where Angie's parents live, a ski holiday to Switzerland, plus a trip to Las Vegas. And Angie added:
It's just a load of figures at the end of the day but we intend to make all of our family and friends millionaires.
Dave also plans a season ticket to watch Chelsea – nothing fancy like a box though he adds, as he wants to stand with the real fans.
Marriage is also now on the cards, for next year. The couple would have married already but simply couldn't afford it. Angie had already changed her surname in anticipation. Dave is now promising her an upgrade to her £800 engagement from H Samuel.
They also want to give some back, and Angie says they are looking into childrens charities. It feels good to help people out she added.
So far they had only received one request for a present. Angie's dad would like a blue 1927 Rolls Royce Silver Ghost. He doesn't actually drive, but says he'd be more than happy to just spend all day polishing it.
The Dawes are now the 3rd biggest EuroMillions winners in the UK. The largest ever was the Scottish EuroMillions winners only 3 months ago who won £161 Million. The 2nd largest was £113 Million by an anonymous winner in October last year.
Dave and Angie bought their winning ticket from the WH Smith in Market Place, Wisbech.
If you would like a better chance of winning a crazy jackpot with EuroMillions, choose one of our 'rated and reviewed' EuroMillions syndicates. Maybe you could end up on the receiving end of a crazy jackpot like the Dawes.