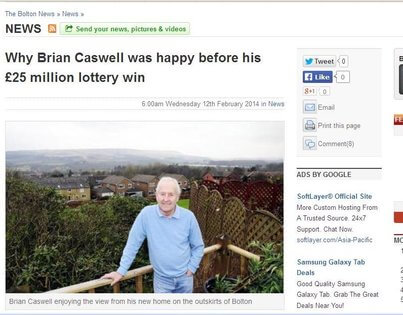 What happens when a man who has just about everything he needs wins £25 million?  For Brian Caswell, it enhanced the quality of his life a bit but hasn't changed it very much.
Caswell had planned his finances well and could live off the fruits of his many years of work even without the lottery win in 2009.  He was happy with his life then and still happy the win has not significantly changed his life.
He has not bought overseas homes because he likes the place where he lives.  And though he has bought one Range Rover, he has not bought a fleet of cars that many big winners do.  What the win has allowed them, as a family, to do is to live closer together and upgrade the things they have.   Vacations are a bit more luxurious, and of course there are no financial worries.
He calls his win the icing on the cake.
Read more in http://www.theboltonnews.co.uk/news/11003052.Why_Brian_Caswell_was_happy_before_his___25_million_lottery_win/