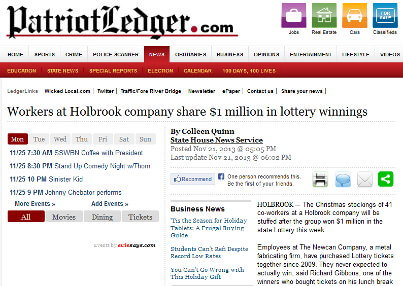 Sometimes it takes a syndicate to bag a big lottery prize.  To increase their chances of winning, forty-one workers from fabricating shop The Newcan Company banded together and bought 177 lottery tickets.  Their strategy appeared to have paid off big time, as they managed to win a second prize worth $1,000,000 from the Mega Millions Lottery.
Because of their number, their individual shares will not be enough to retire on, but, as Christmas is just around the corner, it is bound to cheer up their holidays.  By their calculation those who invested a dollar walk away with $4,000 and some will get about $20,000.
Lottery officials were surprised that the Mega Millions syndicate was so well organized, and even came to their office with a spreadsheet showing how much each of the members are to get.  There have been quite a few cases where joint ownership of tickets ended up in disputes – so it's good to see groups organising themselves properly (read How To Run Your Own Syndicate for more help).
Read more in http://www.patriotledger.com/news/x919108369/Workers-at-Holbrook-company-share-1-mil-in-lottery-winnings