Lottery winners Allen and Violet Large struck it rich with a win of $11,255,272 on the Canada Lottery.
But after finding the money more of a headache than a blessing, the couple who are both in their 70's, gave it all away.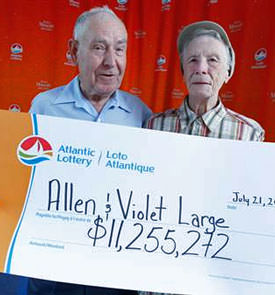 Allen and Violet have been married for 36 years, and both retired 28 years ago. They were comfortably set up, and just didn't feel they needed the money. As Violet said:
What you've never had, you never miss.
The main recipients of the money were hospitals based in Halifax and Truro. Along with their own families, and a list of other groups they made which included the Red Cross, Salvation Army, local fire department as well as churches and cemeteries.
Violet had recently received treatment for cancer, so they were particularly happy to be able to support the hospitals where Violet had received her treatment.
And do they feel any regret now the money had all gone? Not a bit of it. As Violet said:
It made us feel good. There's so much good being done with that money.