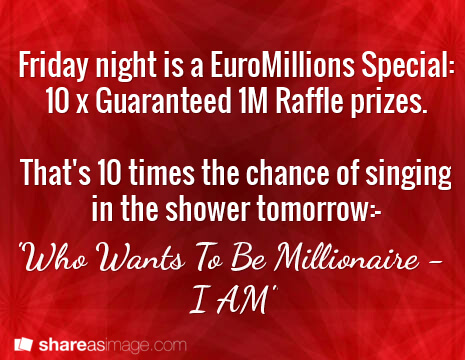 If you play EuroMillions in the UK (or want to… see below), this Friday night is a bonus "must play" draw, because…
Friday night is a EuroMillions Special with 10 x Guaranteed 1M Raffle prizes.
Normally of course there is only one, so this pretty much gives you 10 times the chance of singing "Who Wants To Be A Millionaire — I AM" in the shower tomorrow morning 🙂
So get yourself a ticket today.
Or if you want an even better chance of winning, then grab a spot in a EuroMillions syndicate today. Our reviews sections gives plenty of choice of who to play with. And most are open to players all over the world — and will let you join online in time to be playing in this special draw.
Good luck.