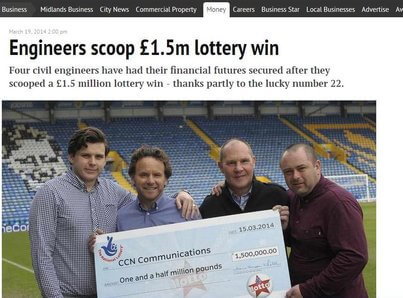 The lucky number 22 helped a syndicate of four engineers win a £1.5m lottery prize.  Lewis Fox chose  the number 22 because it is his mother's birthday and her late grandmother's lucky number.  Other members of the syndicate include Lewis father Tom, Sid Veness, and Mark Bush, all workers at CCN Communications.
Tom saw the draw on the television, and checked several times before getting on the phone to the other members of the syndicate.  Lewis  Fox finds it hard to believe he can now fully pay for a house he had just bought last month, and Bush is looking forward to a grand vacation.
The group are very lucky as they had only started playing in a syndicate at the beginning of the year.
Read more in http://www.expressandstar.com/business/uk-money/2014/03/19/engineers-scoop-1-5m-lottery-win/