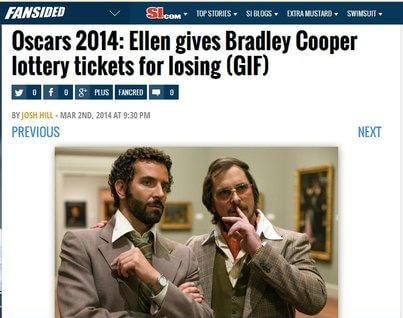 The Oscar Awards are so prized by actors, especially hopeful nominees, that losing on the chance to land one can be very painful.  Ellen De Generes, this year's host at the academy awards, understands the pain of such a loss and has come up with an unusual way to assuage the hurt feelings of one of the losers.
Jared Leto, an early favorite, won the Best Supporting Actor Oscar over Bradley Cooper.  To ensure that Cooper does not walk away empty handed, De Generes handed him lottery tickets.
Reports indicate he did not scratch off the tickets right away, but he accepted them.  Can you imagine how he would have felt if he scratched it then and there in front of national TV and won a big prize?
Read more in http://fansided.com/2014/03/02/oscars-2014-ellen-gives-bradley-cooper-lottery-tickets-losing-gif/#!ywd9W