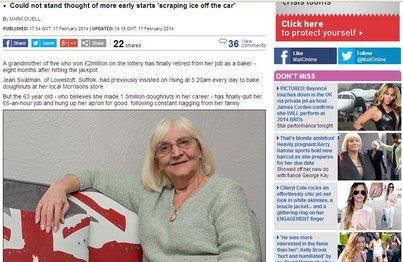 Jean Swatman so loved making doughnuts that she was reluctant to leave her job.  Even after a lucky dip ticket had given her a windfall of £2,021,379, she continued to come in at 6:00 am to start a day of baking.  Constant pleas from her family failed to convince her to retire for the next eight months.  Winter finally persuaded her to retire as the thought of waking up at 5:30 t0 scrape ice off the car became unbearable.
She has taken a trip to Asia to visit her son who now lives there.   Though she still lives in the modest home she and her late husband had shared, she has bought her brother's and her daughter's houses to help them move.  She now rents those out.  She spends her time re-decorating and generally enjoying the life of a financially secure retiree.  She also has plans to help secure the future of her family with her new wealth.
Friends and former co-workers say it could not have happened to a better person.  After many years of hard work, she has earned her now very comfortable life.
Read more in http://www.dailymail.co.uk/news/article-2561400/Grandmother-finally-retires-eight-months-2million-lottery-win.html