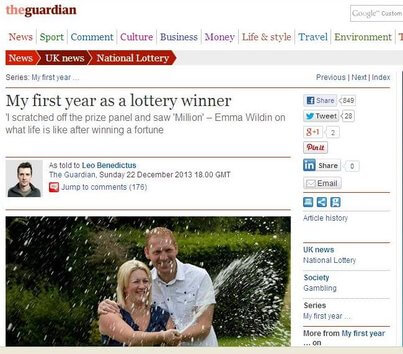 Emma Wildin reflects on the year gone past since her million pound scratchcard win and says that their life remains essentially the same.  They don't splurge and still budgets their spending to match what they make.
When she won the million pounds last year, she and her husband had set aside only 100,000 to spend on luxury, the rest goes to investments.  So now they have a Range Rover, Emma had laser eye surgery, they've shopped for a few days and are scheduled to go to Disneyland in the new year.  They've even helped out mom and dad a bit.
From the rest of the money they have bought two small houses, rent income from which now help makes life just a tad easier. She believes that financial security is the only life-changing aspect of the lottery win that has affected them.
She feels a bit odd now and then about how people view their win, and if they are inadvertently leading other people to gamble, but that is part of the price they pay for winning.
Read more in http://www.theguardian.com/uk-news/2013/dec/22/my-first-year-lottery-winner