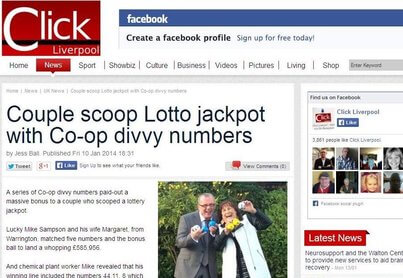 Mike Sampson and his wife Margaret, cashed a lottery ticket that matched five of six numbers and the bonus ball.  Their win is worth a whopping £585,956.
The way Mike tells it, he is fated to win that particular lotto draw.  He used a combination that included his mom's Co-op membership number, and even bought the winning ticket at a Co-op.
How he got to the co-op to buy a lottery ticket is another story.  He usually get chips delivered to his home, but that one day decided to go out to get the chips himself.  But there was a long line of clients at the chip shop, so he decided to get some smokes and two lucky dips.  When he entered the co-op though, there was no line at the cashiers, so he decided to pick out the lines himself – and those lines won.
First thing on the list is paying of mortgages and debts.  Then the couple may buy a bungalow and go on a holiday.  Neither plan to quit working.
Read more in http://www.clickliverpool.com/news/uk-news/1220611-couple-scoop-lotto-jackpot-with-co-op-divvy-numbers.html