Now you can play the UK's Health Lottery with well established syndicate company 'You Play We Play'.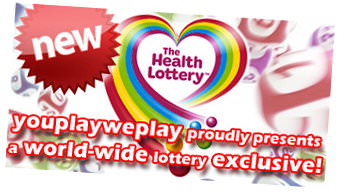 The new groups are now open and accepting players online.
Existing members have already been buying their tickets, and groups are filling up already.
Managing Director of You Play We Play, Mike Oxford, said they were pleased to announce signing a very exclusive deal with The Health Lottery, and have become the only non-High Street business with official retailer status.
You can join as a member of YPWP for free. You then pay £2 when you want to play in the Health Lottery Syndicate itself.

YPWP also offer syndicate options for other popular games including the UK's main Lotto draw as well as EuroMillions.