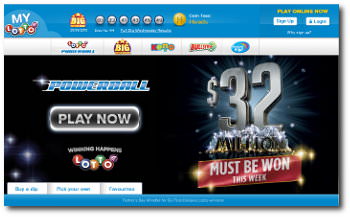 This Saturday is a very important draw for New Zealanders.
Yes, it is a $32 Million Powerball rollover.
But that's NOT why it's important.
The reason it's important is because this draw is a roll down draw!
These are incredibly rare for some games, and this is one of games that hardly ever sees a roll down happen. So make the most of this draw folks.
Why Should I Care About A Roll Down?
Because potentially it gives you a huge advantage, and a much better chance of winning. I say potentially because the 'big benefit' happens if nobody matches all the numbers.
That makes you instantly 10 times more likely to win on this game.
[Obviously if you win the jackpot then you don't really care about the roll down anyway 🙂 ]
Why Is This Powerball Draw A 'Roll Down'?
Because the NZ Powerball game has hit it's jackpot cap of $32 Million. They won't let it get any bigger than that, so it cannot roll over again.
So What Happens In This Draw That's Different?
If nobody wins the jackpot, the whole lot rolls down to the next prize level down. That means you could win it by just matching 6 main numbers.
Or even less.
How Can I Play This Draw?
If you're in New Zealand, get your Powerball ticket as normal from your online retailer, or from the official MyLotto site.
But if you're NOT in New Zealand you can still join the fun. I've used this site before to buy tickets online, and found them to be reliable. And they do provide tickets for the NZ Powerball.
You just need to be aware that you're going to pay more than the usual ticket price. This is OK for these 'one-off' big draws but I wouldn't recommend doing it regularly.
So What Are The Odds For This Game?
The NZ Powerball is a 6 from 40 game with a single Powerball picked from a pool of balls numbered 1-10.
Your odds of matching all 6 main numbers plus the Powerball are therefore 1-in-38,383,800.
But if nobody matches the Powerball, that whole $32 Million pot rolls down to the Match 6 prize level – which would make the odds significantly better at just of 1 in 4,264,867.
Are you playing this draw? How many tickets are you going to buy?