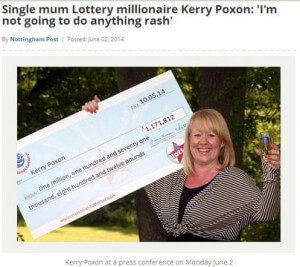 For single mother of two Kerry Poxon, luck came after a mere eighteen months of playing the lottery.  And even then, she did not know she had hit the big jackpot for about two weeks while her ticket had remained unchecked, pinned by a magnet to her refrigerator.  She won nearly £1.2 million.
When she decided to check her ticket, she could not believe her good fortune even after repeating the process.  She had to call her dad to do another verification.
Even if she is excited about the money coming her way, she only plans to purchase a modest house so she can secure her children's futures.  She also wants to train to become a midwife or a health care worker.
Read more in http://www.nottinghampost.com/Single-mum-Lottery-millionaire-Kerry-Poxon-m/story-21176159-detail/story.html