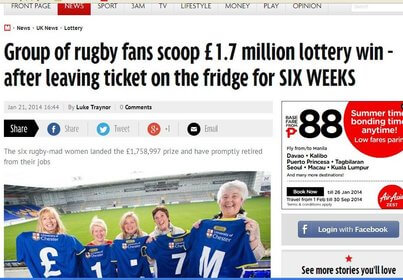 Six women fans of Warrington Wolves Rugby have opted to resign from their respective jobs.  The group made their decision after scooping a £1.7 million lottery prize which they equally shared.
Yet the women almost missed their chance at fabulous fortune when the Christmas holidays caused them to be so busy they did not even remember to check their ticket.  Their  syndicate leader Julie Phillips only remembered about it six weeks later.  And when she had it checked the machine broke, and she almost turned back.
Now that each of them have £293,166, they have decided to spend the money on different things.  One will have her house re-carpeted, and one will help a son take a masters degree.  The only thing they have all done is retire.
Read more in http://www.mirror.co.uk/news/uk-news/lottery-win-warrington-wolves-fans-3047270#.UuJ_b_uwrUI