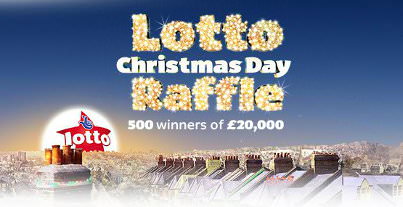 This Wednesday is a special day, mainly because it's Christmas day of course.
But it's also a special draw for the UK Lotto.
Now normally there would be 50 Raffle prizes of £20,000, but because it's Christmas the UK Lotto have decided to boost that up to a huge 500 prizes of £20,000.
If my maths serves me correctly that's £10 Million of Raffle prizes!
And it's also a rollover draw too, so the jackpot currently stands at an estimated £7 Million too.
So this is not just your average Wednesday draw by any means. Your chances of winning a prizes are greatly increased due to all those extra prizes (about 10 times better!).
But if you want an even better chance than that, get yourself a syndicate place today in one of these UK Lotto syndicates. We have detailed reviews of each syndicate, so pick the best one (or two!) for you and greatly boost your chances of winning even further.
Each UK Lotto line you buy includes 1 Raffle entry, so the more entries you buy the better your chance of picking up a Raffle prize too.
But don't delay – this is a one-off special draw, and you won't find many places open on Christmas day to buy a ticket..!