Has Joan Ginther Discovered A System For Beating The Lottery?
If there is a subject sure to stir interest from lottery players, it is that of finding a legal system for dramatically increasing the odds of winning. Such a system is usually just a pot of gold at the end of the rainbow, but once in a while a story emerges where they may just be a little more to it.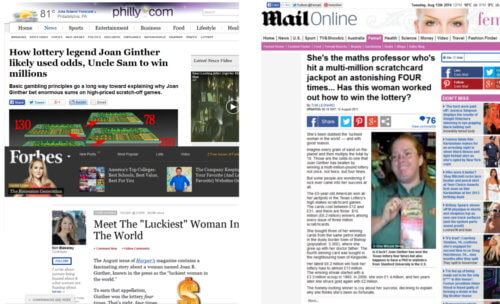 So Who is Joan Ginther?
Joan Ginther is from the town of Bishop in the state of Texas in the US. She became famous after she won multiple Texas Lottery jackpots. She won four of them between 1993 and 2010, which prompted people to label her 'the luckiest woman in the world.'
Ms. Ginther is a statistician by profession, and a former professor of mathematics. She holds a PhD in mathematics from the prestigious Stanford University. Some sources say she has moved from Bishop, Texas to Las Vegas, the gambling capital of the US.
Just How Much Did She Win?
Her first win in 1993 was a huge $5.4 million dollar share of a Lotto Texas jackpot. It took another thirteen years before she posted another big jackpot. She won $2 million from the Holiday Millionaire Game in 2006. Thereafter, her wins came a bit more frequently. She won another $3 million playing the Million & Millions instant game just two years later, in 2008. After another couple of years she posted her biggest win; she snagged a $10 million jackpot from the Extreme Payout instant game in 2010.
All in all, Ginther has won more than $20 million in lottery jackpots, or so it seems. Some people believe she 'invested' large amounts of money in instant tickets to be able to post her last three wins, so her net winnings may be significantly less.
People's Suspicions Lead To Investigations
Such incredible luck, if that is what one believes it is, can sometimes lead to unwanted attention. In the case of Joan Ginther, it lead people to suspect she may have been involved in a scam. Conspiracy theorists have pointed to the fact that three of her wins involved instant tickets bought from the same petrol station in her hometown of Bishop. Her fourth and biggest payout came courtesy of another instant ticket, this time from nearby Kingsville.
Some quarters, including the Texas Lottery and Philly.com considered the circumstances of her multiple wins suspicious enough to warrant an investigation. And investigate they did, though nothing has been turned up to indicate any evidence of wrongdoing. In fact lottery officials later commented that she must have been born under a lucky star, because they cannot uncover anything illegal in the way she played.
Is It Really Just Luck?
Some of those who believe she won her multiple jackpots legally are convinced that it involved more than blind luck. For them, Ginther's PhD in Mathematics, and her job as a professional statistician may have contributed to her incredible success at playing lottery games. Some people theorize that her first win may have been just luck, but the next three may have been the result of calculated playing methods. Her first win may have provided her with funds ($270,000 per year till 2012) to 'gamble' on a system she may have developed. So really, luck is involved in some way.
What Could Have Helped Her Win?
People theorize she may have been watching trends on instant cards. If a lot of tickets have already been sold and most of the big jackpots are still in play, she can take a chance on buying large blocks of tickets from stores where previous jackpots for the game have not been sold. This theoretically increases her winning chances, especially with landing the big jackpots.
The way lottery games guarantee a winner for every 3 or four tickets bought also provide an edge to Ginther.  Even if most wins are small and seemingly insignificant, they add up and constitute an unofficial discount especially when buying in bulk.
Texas tax laws also work in her favor as tickets which don't win can be claimed as 'gambling losses' she can offset against her wins.
There are also indications she may have masked the number of tickets she bought with the help of a friend.  This enables her to quietly purchase blocks of tickets whenever she feels the odds are right.
So Has Joan Ginther Really Developed A System For Playing The Lottery?
Lottery players who have followed her case are still however split on the issue. Some believe she had scammed the lottery, despite no evidence being turned up to support that view. Many more people believe that Ginther used her considerable math skills to beat the system legally.
There have been many attempts to quiz Ginther about this supposed lottery playing system but she has remained tight-lipped.  Only Ginther knows whether she has indeed developed a viable lottery playing system, leaving the rest of us to wonder how we can experience even a bit of her lottery success.
What do you think? Did she take advantage of her specialist knowledge and maths abilities perfectly fairly, or did she abuse her power? Let us know what you think by leaving a comment below.