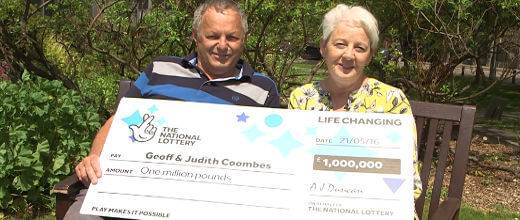 Lottery Winners Keep It Simple
There are lots of stories of big lottery winners who become overwhelmed by the sudden arrival of incredibly large sums of money.  After a few years some of these lottery winners burn through their fortunes ending up as poor, if not poorer, than they were before their win.
To be fair though, some lottery winners intentionally lose their windfalls for reasons of their own.  Some believe they don't really need the money and donate their entire winnings to charity.  Some say that it is money they have not really earned and so they spend it all on their passions; in some cases these can be international travel, following sports events all over the world or other luxuries.
Then there are those who are determined to get the most benefit from their newfound wealth.  Some winners in this category hire financial advisers to ensure that they are basically financially set up for life.  For winners who are at or near retirement age, the plans need not be so elaborate.
Recent lottery winners Geoff and Judith Coombes have always led simple lives and they see no reason to make any big changes.
Who They Are
After one of their tickets won in the EuroMillions Millionaire Raffle the couple have become very well off indeed, but things have not always been easy.
Geoff Coombes and his wife Judith have been married for 42 years and live on a two-bedroom bungalow.  The couple are regular working class people who happen to play the lottery regularly; every Saturday in fact.  Mr. Coombes still works as a self-employed exhibition stands builder and his wife is a curtain maker.  Since both are self-employed they do not have retirement plans.  They are avid gardeners and have long dreamed of buying a new lawn mower.
Then they hit it big one.
The Life Changing Moment
After regularly playing the lottery every Saturday, the couple did not really expect to win a big life-changing amount of money.  But one Saturday they bought EuroMillions entries online for the next four weeks and carried on life as usual.
Mr. Coombes checked draw results as soon as they arrived home, but none of their six numbers matched, so there was nothing to be excited about; or so he thought.  But an email the next day told them they had a winning ticket; they did not learn of their win earlier because they failed to check the results of the millionaire raffle draw!  It was such a shock that his wife initially thought it was just a hoax.  Now they have come to terms with the fact that, if they are prudent, they will not have any financial worries for the rest of their lives.
Doing What Makes Them Happy

They winning couple have decided not to make any big lifestyle changes; they love their simple lifestyle too much.  In fact, the media have made much of their first purchase after becoming millionaires: nothing fancy, just a new lawn mower they bought at a discounted price.  They plan to live in the same house and do most things the same way.  Since they are in their sunset years the couple will put emphasis on quality time.
Both have decided to retire early so they can spend more time with their two daughters and twin grandchildren – a luxury they could ill afford before their win.  They will forego the usual luxuries in order to be able to travel more (they have mentioned cruises) and spend time with family because that is something they value most in the world.
They are true winners in every sense.  The lottery win has given Geoff and Judith Coombes the ability to live their sunset years in comfort and style with a lot of time to spend with the people closest to their hearts.  People may wonder why they chose simple pleasures over a truly luxurious lifestyle, but what is important is that they are doing exactly what makes them happy.
What would be the first thing that you would buy with your winnings? Let us know by leaving a comment below.