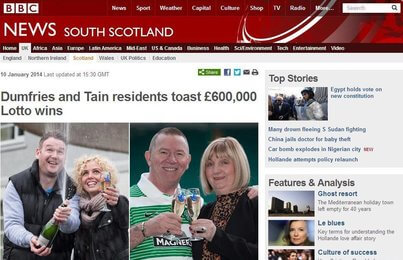 In a draw that may end the debates on choosing numbers versus lucky dips, Dumfries and Tain residents post identical 5 number matches to bag £585,956.  Former council worker Alfie Crosby and wife Anne from Dumfries used their grandchildren's ages top ick their number.  Barry Loughrey, 36, and fiancee Ildi Kiss took an easier route by asking for a lucky dip.
Mr. Crosby was so shocked when he discovered his good luck that he shouted for his wife to come – she promptly burst into tears.  He now plans to buy a new car and to watch more Celtic football games.
As for Loughrey. he initially thought he had only won £585 and is still in shock over the amount of his windfall.  Still it is almost certain it would help finance his wedding, honeymoon and give them a good start as a couple.
Read more in http://www.bbc.co.uk/news/uk-scotland-south-scotland-25681334