The Man Who Cried 'Lottery Winner'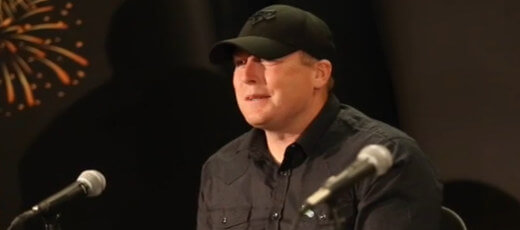 A simple and shy man from a small hamlet in Alberta has this amusing habit of telling his wife they had won the lottery. Raymond Scott would do that every time he wins something, even if it was just a $2 prize. Because his wife, naturally, expects more from a lottery win, she soon got tired of hearing him declare they were lottery winners; perhaps because she's really hoping for a significant win. Remember the story of the boy who cried wolf?
After a recent trip to the M&M Mini Mart, Scott goes to check his tickets while the wife wandered to a different section of the store. When Scott later told his wife Sheena they had won the lottery, the answer was "Yeah, right" and not much else – no excitement whatsoever. But it was very different this one time – Raymond Scott's ticket had matched all the numbers on the Canada Lotto Max draw and the prize was a mind boggling $50 million.
Their Rags To Riches Story
Before their win, the Scotts were not living comfortable lives. In fact, you can say that they have had their share of hardships. Both describe the families they came from as working poor people. They have been married just a year and live in Fort Kent in Alberta, a place with just 220 residents. They are so poor that they have not even had a honeymoon.
His parents bought the gas station soon after he finished high school and he just naturally started working there as a gas station attendant. When his father died just three years later, his mother ran the station while he and his siblings moved away to find work. His latest work has been managing a trucking company – a job which leaves him little time to spend with the family.
Aside from that, he talks about having undergone an operation for "cancer stuff." He does not wish to elaborate, but you can imagine how much of a struggle that has to be for a simple working man.
All that changed the day Scott and his wife went to the Mini Mart and bought Lotto Max tickets. They later shyly admitted they were there that night mainly to get a birth control prescription filled. Because of that night, they need not worry about having as many children as they want.
Simple Plans
Scott now looks forward to leaving his job at the trucking company. He can now afford to retire if he wants, or look for a job which will allow him to spend time with his family – having a steady job has suddenly become optional.
The happy couple also wants to go on the honeymoon they never had when they got married more than a year ago. Now they can take as long as they want and go first class all the way if that is what they want.
Other plans include going on vacations, setting aside portions for the college education of their children, and helping out family; they have not forgotten how the family helped them out and are glad they can now return the favor.
The Power Of One Lottery Ticket
Raymond says that he noticed that he won small sums occasionally when he bought tickets from the local M&M Mini Mart. Whenever he buys tickets elsewhere, he would come up empty, so he kept buying lotto entries from the M&M. In this case, it looks like his observations are spot on.
However, mathematicians give everyone the same odds of winning the lottery no matter where they buy tickets from and what number combinations they choose for whatever reason. This means there is really no reliable system for assuring us of a big lottery win.
So why are we still playing the lottery like we would be the next big winner? It is because we have as much chance as every other player out there and it takes just one ticket to land the big one – just like the one Raymond Scott bought that day. Someone is bound to win that big jackpot, and the next one might just have our name on it.
In a sense Raymond Scott and his wife Sheena are still struggling – struggling to comprehend the life changing blessings that have come their way through one Lotto Max ticket. That is one kind of struggle most of us would not mind having.