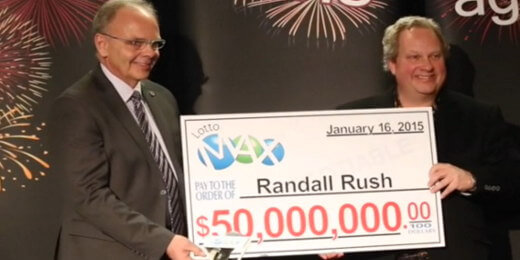 Randall Rush – Winner Extraordinaire
Randall Rush's extraordinary lottery story started in a very ordinary manner. He had even less than the average person because he was so poor at one point when he was in his twenties, that he almost became homeless. He never married and never had much family or even relatives to speak of. That he got through the hard times, he attributes in part to the help of people who have been kind to him. Until his big win, he was working at Hertz Equipment Rental.
Other than that he was just an ordinary working man, and until about six years ago, he never even touched a lottery ticket. But that changed when he saw numbers flash before his eyes as he was watching a football game at his friend Darrell's house. At that time, he took that as a sign that he would win the lottery someday.
It was at the urging of a friend that he actually began buying lottery tickets every week, without fail, using the numbers he saw in his vision. Like everyone else, he dreamed of what it would be like if he actually won; things like how he would spend the money and all that. But he says that in the last two years leading up to his win, he did not just believe he would win, he was sure of it.
The Win
Of course, even if he said he was sure he would win, Rush had no idea exactly when that would happen. The ticket that finally gave him his long awaited win came via a purchase at Lamont Grocery in Lamont. The ticket contained the same set of numbers he started playing just six years ago, the only difference was that this time, finally, all seven numbers in his Canada Lotto Max ticket matched those drawn. And the prize had rolled over to a huge $50 million by then.
When he went to check that day, the last ticket he scanned was the winner. Then all hell broke loose as he started screaming and now thinks he may even have been hyperventilating. The girl at the till contributed to the pandemonium as she was also busy screaming with joy. Randall Rush had trouble processing the fact that he was now suddenly a millionaire many times over.
What Makes Randall Rush Extraordinary?
When Rush was interviewed about his win, one of the first things he said was "To whom much is given, much is required." Through all the excitement of suddenly having more money than he ever had at his disposal, one of the first thoughts that came to his mind was that having so much blessings gave him a responsibility to be a blessing to those in need; in fact he has stated that is what he wants to dedicate the rest of his life to.
That is not to say that Rush is not going to enjoy any of the money. He has already resigned from his job and plans to buy two fancy cars; most probably a Porsche and a 1965 Chevy Corvette. What is truly amazing is that, this early, he has decided that the bulk of his winnings will go to charitable causes.
He has said that he will not forget those people who have been kind to him over the years, and is determined to help them. He plans to use most of his winnings to set up a trust fund whose interest will go towards charitable causes worldwide. He has never forgotten how he almost became homeless and that drives him to want to help other people. He wistfully says a foundation will enable the fund to keep on giving long after he has gone back to his Creator.
The world will be a much better place if we had more people like Randall Rush. When so many people are getting criticized for being overly materialistic, here is a man who will take only what he needs and contribute the rest to the less fortunate. And to me that makes Randall Rush a true winner, in this life and most importantly, most probably in the next as well.
If you'd like to raise a glass and congratulate Randall, add your comment below. I'm sure he'd be tickled to see it.