The Life Altering Power Of A Lottery Win
Lottery wins, especially the multi million ones, have been described as life-changing for many different reasons, most of them having to do with the accompanying lifestyle changes.  Some winners are able to adapt well, while there are some whose lives are ruined by the sudden disruption caused by immense wealth.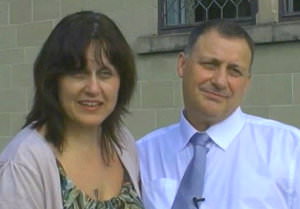 For Graham Nield and partner, Amanda Vickers, their recent £6.6 million jackpot win has definitely changed life in a big way.
Background
Graham has been working in automotive firm Autoneum for 25 years.  This is where he met Amanda who has worked under him at the same firm for about 12 years.  The pair, who are both divorcees, soon found themselves living together ten years ago.
Since then, Graham had been vainly trying to get the courage to ask for Amanda's hand in marriage.  Unknown to him, Amanda had been hoping to get asked for all of the ten years they have been together.
When they went on a holiday to Tenerife recently, Graham thought it would be the perfect opportunity to propose, but as always, he ended up choking on the words at breakfast.  While Graham thought he may never get the courage to ask, patient Amanda had been starting to doubt whether she will ever get asked.
Lottery Comes To The Rescue
One Sunday, Amanda suddenly started jumping up and down and yelling whoopee, upon finding that their lottery ticket matched all six numbers drawn.  They were suddenly £6.6 million richer.  Graham could hardly believe it at first, but then, oddly enough, thought it might be the right time to propose.
He grabbed her and asked, "Now will you marry me?"  Her answer made him feel like he had won the jackpot twice: "Oh yes, but it isn't because you have loads of money, it's because I love you."  She says that the proposal meant more to her than the jackpot.  Amanda's parents were only too happy to give their consent.
The Happy Ending
Now Amanda plans to give her notice to Graham, her boss at the office.  Graham, however, wants to continue working.   The couple also plan to have a low-key wedding, but a big party for family and friends.  They have no idea as yet on how they will spend the money but say it will be used prudently to benefit family and friends.
While the jackpot money does not seem to matter much to them, they are not likely to forget that it took a lottery win to push through Graham's proposal, which they both value much more than the money.
Have you ever said you'll get married 'when you win the lottery'..? 🙂