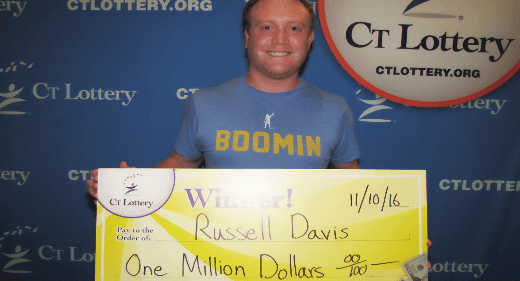 There are some pessimists among us who subscribe to the idea that no good deed goes unpunished. That somehow, doing the right thing ends up making life difficult for good people. But there are very few of this kind of people.
There are quite a few more people who believe that virtue is its own reward. Remember Mindy Cardell who let Gloria Mackenzie purchase Powerball tickets ahead of her? When Mackenzie won a $590 million jackpot, Cardell said their interaction was an opportunity to teach her daughter about kindness! She had no regrets about letting the eventual winner get ahead of them on the line at a Publix market.
Now there are also people who do good expecting some kind of reward. Of course the reward thing is never certain – that sometimes depends on the person at the receiving end of the good deed. But you can never discount divine intervention coming up with a way to encourage good behavior; Hindus use the term 'karma' to describe this.
Milford resident Russell Davis may have found another way to win the lottery, in his own words it is "loading up on karma."
Russell Davis' Play For Luck
By all accounts Davis is a really honest person. But apparently he was hoping 'karma' will reward his honesty. He is a lottery player, and his chance came one day as he visited a lottery outlet to purchase tickets. As the clerk handed him the change, he noticed that it was more than he should have received.
As Davis immediately returned the extra change, he remembers thinking, "Hopefully karma kicks in soon," he had just bought lotto tickets after all. Unfortunately, what he calls 'karma' may have been teaching him a lesson in patience, or maybe that virtue is its own reward. The tickets he bought that day won nothing!
Virtue Rewarded
Fast forward a few weeks later and once again Davis is at a lottery outlet. This time he bought "$1,000,000 Diamonds" instant tickets from a Sure Mart on Bridgeport Avenue in Milford.
On this occasion his good deed was to be rewarded. When he scratched off the tickets, one revealed the million dollar top prize! Davis was stunned, but perhaps not so surprised by his turn of good luck; by his own reckoning he had loaded up on karma. But still he says he must have looked at the ticket hundreds of times. Then he called his brothers over and asked them to look at the ticket – still the same result. He was a really big winner.
His luck even rubbed off on the Sure Mart; the store will receive a $10,000 bonus (1% of the prize amount) for selling the winning ticket.
How He Plans To Enjoy His Windfall
When he made his claim at the Connecticut Lottery offices, he chose to receive the prize as a single payment of $720,000 instead of the full amount over a twenty year period. His priority is to pay off his bills and to help his family.
And for himself, the winner, an avid football fan, says he will upgrade his season tickets so he gets to watch his favorite teams up close.
So, especially this Christmas season, "be good for goodness sake." Of course you can also hope for divine intervention to come up with tangible rewards!