A Win Enough For An Entire Family To Retire On
Lottery winners have different plans for their fortunes. Some are content to live relatively unchanged lives, some who don't need the money give it all away, many proceed to lead lives of leisure and a large percentage retire. In fact most lottery players dream of winning enough money to retire on; but if you ask them how much that is, many of them don't even know for sure.
But what if you win a really huge jackpot? What would you do with all the money? Will you even know what to do with it? Michigan grandmother Julie Leach had to deal with those types of questions when she unexpectedly won a $310.5 million Powerball jackpot.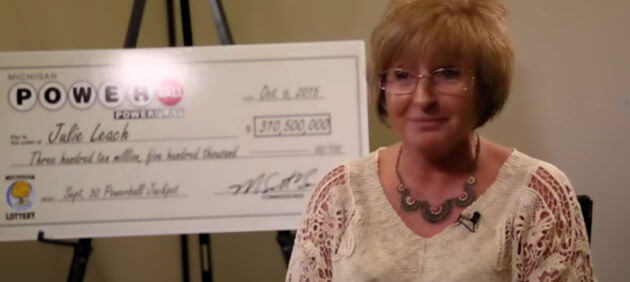 Who is Julie Leach?
Until she bagged the gigantic sum of $310.5 million, 50-year old Julie Leach was an ordinary working class woman. The fifty year old was working as a supervisor at Aquatic Bathware, which manufactures fiberglass items among other things. Anyone who has worked with fiberglass knows how hard, dirty, and itchy the work can be.
Vaughn Avery, her partner of 36 years, was working at a metal casting company.  Together they have lived and raised two children and a step child. They also now have eleven grandchildren.
Her Lottery Dreams
She and her partner played the lottery. Leach regularly plays the lottery but buys more tickets when jackpots have rolled over to big amounts. She is even part of a lottery syndicate at work.
Leach and Avery often talked about winning the lottery. They agreed they wanted to win enough money to buy large parcels of land so the whole family including all their children and grandchildren can live together. They wanted to have their own 'little community'. Despite their discussions, they were grounded enough to realize the odds of winning were very small.
Luck Visits The Town Of Three Rivers
It was at the suggestion of her long-time partner Vaughn Avery that she picked up lotto tickets on the way to work one Wednesday night. Her winning entry was one of a bunch costing a total of $20 which she purchased at the Three Rivers West Shell gas station, along with a cup of coffee. From there she proceeded to work; she was on night shift.
She relates that she was having a bad night at work, when she went for a break at a McDonald's and checked her tickets. When the numbers started matching up one by one, she became very excited. She soon realized she was the sole winner of the jackpot!
What Has Changed Since Her Win
Immediately after realizing she was a millionaire many times over, she decided to quit her job. Her boss says she last clocked out 1:20 am Thursday and did not come back for work the next day. She has since arranged for an exit interview and to go through all the formalities involved in resignations. When her partner wanted to work the next day, she gently reminded him they don't need to work anymore.  When the time came for her to claim her prize, she chose a single payment of $197.4 million, or about $140 million net of taxes. Now they are seeing all of their dreams come true.
She, her husband and three children have all left their respective jobs. They have paid off their mortgages, completed car payments, and are now looking for land to build their new homes in. There are also plans to travel basically anywhere they fancy.
What We Can Learn From Them
Leach and Avery are ordinary hard-working people who play the lottery regularly. They set aside sums for lottery tickets, about $20 per week in Leach's case, but do not go overboard in their desire to win. Though they are aware of the long odds, they know people do win and they have as much chance as anyone else.
If we play wisely as they did, who knows what blessings may come our way. Leach's story highlights the fact that it takes just one ticket to win enough for a whole family to retire on. Now that is a dream we can all relate to.