Canada
Latest news about Canadian lottery winners, and the Canada lottery.
November 29th, 2013
Pierrette Lévesque has been buying only two to four lottery tickets per month.  Yet that is enough, apparently, to make her the latest multi-millionaire when one of her tickets won $20,113,060.60 from the 6/49 game of the Canadian Lottery.
November 16th, 2013
Morgan Harker has made it a habit to bet on the lottery whenever the jackpot is big, and the Lotto Max jackpot of $50 million certainly fit the bill. 
October 25th, 2013
A lawyer from Saskatoon, has won the biggest 6/49 lotto jackpot ever awarded in the state.  David Worme later received a check for $14,797,843 from lottery officials. 
October 16th, 2013
There are many stories about lottery wins improving the lives of lucky players, then there are some stories where money from the lottery breaks up priceless family relationships. 
October 2nd, 2013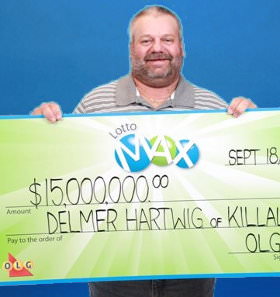 A Lottery Winner Who Knows What He Wants
Lottery wins involving incredible sums of money have often been correctly described as "life changing." The changes that huge jackpots bring are almost always positive at first, but after some time, not all winners see it as a blessing.
September 25th, 2013
The Western Canadian Lottery Corporation (WCLC) has advised bettors to re-check their tickets after discovering that a system delay has caused incorrect lottery information to be provided.
September 19th, 2013
If you learn you have won a $15 million lottery jackpot, will you delay claiming the money?  Well some people advise thinking things over, and consulting with financial advisers prior to claiming a life-changing lottery win, which, if you think about it, makes a lot of sense.
September 19th, 2013
Regular lotto player and auto industry worker Nicholas (Nick) A. Takticos of Hamilton had no idea that the Lotto Max tickets he bought at Royal Variety and Video on Whitney Avenue in Hamilton for the August 30, 2013 draw would change his life. 
September 3rd, 2013
Someone from Hamilton may have landed a great windfall.  Ontario Lottery officials have announced that a ticket which won a $30 million Lotto Max jackpot had been sold in the area.
August 25th, 2013
66-year old grandmother Anne Ip of Burnaby finds it hard to believe she won a little less than $3.2 million in the lottery.  Now she says she wants to buy a new house and a new car.