Wayne D. Johnson Hits The Biggest Jackpot Of All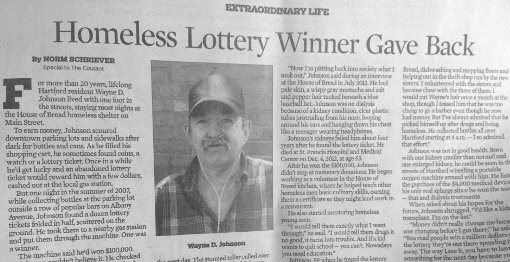 The lottery abounds with stories of incredible luck, such as that of a woman who won the largest Powerball jackpot ever last May, and some very lucky persons who have won significant amounts from the lottery not just once, but even twice and thrice.  There are even lottery players who defy astronomical odds to win huge jackpots on their first or second try.  Stories like that make us wonder somehow why those people are so blessed when most of us are still dreaming of a first significant win.
Such stories invariably shift to how the winners conduct themselves after their win, proving that winning huge sums of money is not always a blessing.  Some winners manage their finances well, while others fall prey to the lure of fleeting instant gratification and end up penniless, their lives and relationships broken.  Some do a bit of charity work, and some lead inspiring lives by making charity work their main earthly pursuit.
I feel that when it comes to charity, 2008 lottery winner Wayne D. Johnson stands head and shoulders above the rest.
A Homeless Man Turns His Life Around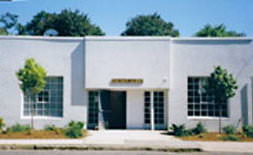 For over twenty years, Wayne D. Johnson of Hartford had been homeless, making a bit of money now and then by pushing a shopping cart around after dark to look for bottles and cans.  At times his activity turns in an odd coin or two, a watch and when incredibly lucky, he would find discarded lottery tickets he would cash out at a gas station.  During this time he spent most nights at the House of Bread homeless shelter on Main Street.
By the time he was 59, Johnson had already been in and out of prison, had been an alcoholic, a drug addict and had also dealt drugs; but he had turned his life around and was living a clean life.  He was determined not to slide back into addiction.
A Poor Man's Fortune Turns
Then one night in 2008, he found a bunch of lottery tickets scattered on the ground.  A check at the machine on a gas station revealed one of the tickets had won $100,000.  Not so large by the standards of most people, but for a homeless man, it was a life changing amount.
He asked for the help of one of the volunteer nuns at the shelter to cash the ticket and open a bank account for the $70,000 he received after taxes.  Now, at this point, many would have been tempted to go back to drugs, or simply enjoy some of life's pleasures that are denied to penniless homeless men, but not Wayne D. Johnson.
A Story of Incredible Generosity
Johnson's generosity rivals that of the widow in the Bible who put in her last two coins in the temple collection box.  The first thing he did was to write a check for $5,000 for the shelter, because he felt the need to give back.  Then, incredibly, he followed this up with a $50,000 donation to the Sisters of the Order of St. Joseph who operated the House of Bread homeless shelter.
Johnson, who was living on a transitional living apartment the shelter had arranged for him, continued to live his life in the same way.  He had left himself almost penniless with his generosity, so he scrounged around town for odd bits people have discarded to make money.  Not content with just giving his money away, he volunteered his services at the shelter and even took to counseling people against drugs.  Instead of making him bitter, his years of hardship inspired him to do his share in helping people who are as poor as he was.
For the rest of his life the only luxury he allowed himself was to buy a portable oxygen machine, which he wheeled around with him after his kidneys failed, and to pay for regular dialysis treatments.  This despite being so generous to other people that he treated a couple of volunteers at the center to a live stage showing of 'Mary Poppins', tickets for which carried a $95 price tag.
Wayne D. Johnson Comes Home

When he was finally called to meet his Maker on Dec. 4, 2012, at age of 63, he had already been estranged from his family for decades, but his new friends at the shelter had become his family.  He bequeathed all he had left to the shelter which  made arrangements for his well attended funeral complete with a eulogy delivered by a Franciscan priest from St. Patrick-Saint Anthony.
I sincerely believe that it was then when he hit the biggest jackpot of all, a real home in the company of his Maker.