Canadian Lotto Tracks And Awards Jackpot Despite Lost Ticket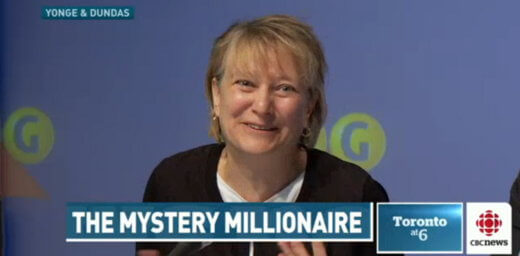 More than a year ago, in November 2012,  Kathryn Jones, a 55-year old engineer from Hamilton, Ontario bought a Lotto Max ticket from a Shoppers Drug Mart in Cambridge, also in Ontario.  She promptly lost her ticket, did not know how it was lost — or that she had even lost her ticket.
That changed in late 2013 when Ontario Lottery and Gaming officials contacted her with a big surprise – they told her she may have won a $50 million Lotto Max prize.  But then she discovered that she does not have the ticket.
The Lottery, Tickets and Unclaimed Prizes
By now, most of us lottery players know the drill: you buy a ticket, check draw results, and use your ticket to claim any prize within the specified period or risk losing it.  The general rules almost universally applied say, no ticket no prize and prizes not claimed on time get forfeited.
There have been lots of stories printed about big lottery prizes that go unclaimed.  In many cases, the lottery operators use video surveillance, radio and TV ads to try and identify the winner before the ticket expires.   Some prizes still go unclaimed, most of which are turned over to charitable institutions.
But even when prize winners are identified, lottery operators still demand the surrender of the winning ticket before awarding the prize money.  Ontario Lottery and Gaming has changed that by deciding to track, verify and award a prize to Kathryn Jones without requiring her to produce the winning ticket.
How They Tracked Kathryn
When almost a year had gone by without any claimant for a $50 million Lotto Max Prize, the Ontario Lottery and Gaming Corp. decided to track down the winner.  Instead of merely putting out media advertisements looking for claimants, they decided to be much more proactive.
OLG decided to launch an investigation and used surveillance videos from the Shopper's Drug Mart in Cambridge, Ontario to find images of the person who bought the winning ticket.  Their database of course showed the time and the terminal from which the winning ticket was sold.  It also helped that the winner paid using a credit card.
Kathryn's Reaction
In statements at a press conference, Kathryn was quoted as saying "I feel almost as though I've been struck by lightning twice.  First to win is pretty incredible … but to lose the ticket and have OLG find me and to take the initiative to actually contact me is pretty incredible."
Kathryn and husband Richard are still shocked by the reality of the blessings that have come their way.  To date, they have not decided what they want to do with the money, and still don't know what happened to the ticket.  They only know they are very grateful OLG went above and beyond to find them.
The Verification Process
Even if the winner was identified through its own investigation, a comprehensive prize claim review was conducted.  This involved comparing video surveillance images from the store with Kathryn, a long interview, and asking her to produce proof of credit card purchase at the time and place where the winning ticket was sold.
OLG also employs a data analysis technology they call DART, which contains information and details of every ticket sold since 1999, to verify winners and prevent fraud.
Upon learning that Kathryn's sister operates a lottery sales outlet, a more stringent review process was conducted, which added a 30-day waiting period before the prize is awarded.  She is set to receive her prize this January 2014.
Mixed Reactions From The Public
Some comments from the public were positive, noting the effort exerted to find the winner and award the prize.  After all, nobody has ever awarded the prize to someone who has lost a ticket before.
Other comments, however, expressed concern that this may set a precedent that encourages fraudsters to try and claim they have lost a winning ticket.  They argue that this will cost the lottery a lot of money in investigations.
A Fine Example For Other Lotteries To Emulate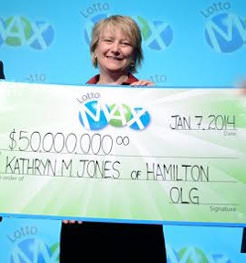 In my humble opinion, the OLG has set a fine example that other lottery operators may learn from.  The methods they used to verify the identity of the winner appears foolproof.  Regarding concerns about fraudsters, prosecuting a few false claimants will do a lot to deter others from trying.
Still the Jones couple and other lottery players in Ontario have renewed confidence in a lottery operator that apparently tracks down winners with the same tenacity the famed Mounties use to track down suspects.  And as a bonus, Canadian lottery prizes are exempt from taxes.
Does your lottery company go this far to find winners? Should they? Should any big prize ever go unclaimed? Let us know what you think in the comments below.